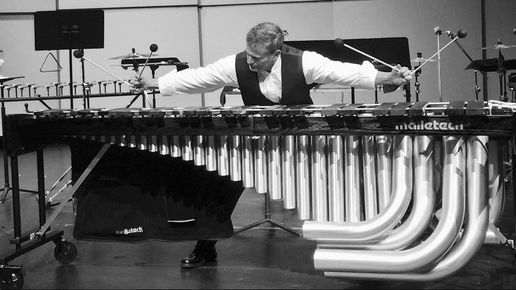 The 3rd Annual Brownsville Marimba Festival was a huge success! Thanks to Kevin Bobo and Oliver Molina for sharing their talents and musicianship with us. In addition, thanks to all of the groups that performed at the festival. These included Marimba Reyna del Valle, the Los Fresnos HS Percussion Ensemble under the direction of Patrick Anderson and David LeClair, the South Texas College Percussion Ensemble under the direction of Ron Schermerhorn, the Omojo Percussion Duo, Mantraga Duo, the Trevino & Zavala Duo, and the Rio Bravo Percussion Ensemble. A huge thanks goes to Vic Firth, Malletech, Sabian, Remo, UTRGV Patron of the Arts, and the UTRGV Percussion Club for sponsoring the event.
As April is quickly approaching, we are looking forward to the 4th
Annual Brownsville Marimba Festival which will take place on April 29 - April 30, 2017 and will feature guest artist/marimbist,
Andy Harnsberger
. The festival will also feature several workshops, clinics, performances, a marimba competition, and a closing marimba orchestra performance by all participants. Below you will find a tentative schedule for each day of the festival
Saturday April 29, 2017 (8:00am - 9:00pm)
**New schedule for the day coming soon**
7:30pm
Andy Harnsberger
Marimba Recital (TSC Arts Center, main hall)
Sunday April 30, 2017 (10:00am - 3:30pm)
**New schedule for the day coming soon**
If you are a band director and planning to bring a bus of students to the festival please register
here
. This will give us an idea of how many people we should be expecting.
Register
here
to participate in the marimba orchestra. There is no cost to participate and it is encouraged that all attendees be a part of the closing marimba orchestra.
To register for the solo marimba competition, please fill out the registration form
here
and pay the registration fee.
Registration Fees, T-Shirts, Raffles and more
:
Solo Marimba Competition Registration - $25.00
Solo Marimba Competition Registration + T-Shirt & Raffle - $35.00
Marimba Festival T-Shirt - $15.00
Raffle Tickets - $5.00 each. Raffle tickets will be sold at the festival and a raffle will be done at the end of every clinic/masterclass. You must be present to win.
*The festival is free to attend, however, to participate in a category of the solo marimba competition, the registration fee is required.
You can pay the registration fee or T-Shirt fee by check mailed to the address below:
Attn: Dr. Joe W. Moore III
University of Texas Rio Grande Valley
School of Music
1 West University Blvd
Brownsville, Texas 78520
Checks should be written to the UTRGV Percussion Club - Brownsville. If there is a need to pay electronically, please contact me by email.
You may also pay the fees on site when you arrive at the TSC Arts Center on Saturday morning.
Solo Marimba Competition Rules:
Pieces must be performed in the 4 minute time slot for the middle school category and in the 5 minute time slot for high school category. Collegiate students have an 8 minute time slot which does not include the obligatory piece. Scores may be docked if a piece goes over time. That decision will be left up to the judges.
Obligatory Piece - **This requirement has now been waived for collegiate participants.** There is no obligatory piece for the middle school or high school categories.

Participants are welcome to bring their own instruments, however, it is not required. We will have an Adams Alpha Series 5.0 octave as well as several Yamaha 5.0 octave instruments.
All music performed must be purchased and owned by the performers. There is no need to supply copies to the judges.
Participants should use mallets that are appropriate and will not damage the instruments.
*Judges - Dr. Andy Harnsberger, Dr. Gustavo Miranda, and Dr. Oliver Molina
Lodging Information:
Below is a list of recommended housing locations. Please contact the hotels directly regarding booking information.
Staybridge Suites - Brownsville
2900 Pablo Kisel Blvd
Brownsville, TX 78526
Phone: (956) 504-9500
Hampton Inn and Suites - Brownsville
3000 N. Expressway
Brownsville TX 78526
Phone: (956) 548-0005
Comfort Inn and Suites - Brownsville
651 Sunrise Blvd
Brownsville, TX 78526
Phone: (956) 541-3332
Brownsville Marimba Competition Past Winners
Collegiate:
2016 Manuel Trevino, Louisiana State University
2015 Emilio Monreal, Michigan State University
High School:
2016 Edric Salazar, Los Fresnos High School
2015 Rosalinda Ramirez, Veterans Memorial High School
Middle School:
2016 Miah Cardoza, Berta Cabaza Middle School
2015 Miah Cardoza, Berta Cabaza Middle School
---